Lil' Dutch Run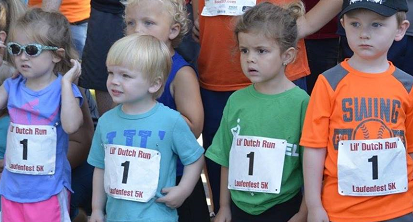 Did you know Haubstadt also hosts the Lil' Dutch Run for children? It's one of our favorites parts of Laufenfest!
Lil' Dutch Run starts at 8:00 a.m. Entry Fee is $10. Trophies awarded to first three finishers in each age group. Medallions given to all participants.
Packet Pickup: Pre-registered packet pick-up from 6-9 pm on Thursday and Friday at Old Haubstadt Gym or on raceday morning. Only pre-registered participants before 11:59pm on 6/14/16 are guaranteed a T-shirt.
Post Race:
-Awards
-Food and Drinks for all participants
-Door Prizes
-Clowns for the kids
-Rock'n accordion music by Helen Kiesel
Race Divisions:
Lil' Dutch Run: 1-3, 4-6, 7-9
Location:
Starts and ends at Old Haubstadt High School Gym at the corner of Gibson and West streets in Haubstadt, IN